Article information
Abstract
Full Text
Bibliography
Download PDF
Statistics
Abstract
The significant and progressive reduction in the number of permanent teachers in medical schools (professor, associate professor and assistant professor) is a reason for concern for the National Conference of Deans. This reduction will intensify in the coming decade (2017–2026). Forty-three percent of the permanent faculty will retire, as will 55% of the faculty linked to clinical areas, 34% of the faculty not linked to clinical areas and 32% of the faculty of basic areas. This deficit is significant now, and, in a few years, the situation will be unsustainable, especially in the clinical areas. This report reveals the pressing need to adopt urgent measures to alleviate the present situation and prevent a greater problem. The training of future physicians, immediately responsible for the health of our society, depends largely on the theoretical and practical training taught in medical schools, with the essential collaboration of healthcare institutions. Paradoxically, while the number of teachers decreases substantially, there is an exponential increase in the number of medical schools and students who are admitted every year without academic or healthcare justification.
Keywords:
Medical schools
Permanent teachers
Change
Resumen
La disminución significativa y progresiva en el número de profesores permanentes en las facultades de Medicina (catedrático, profesor titular y profesor contratado doctor) es motivo de preocupación para la Conferencia Nacional de Decanos. Esta disminución se intensificará en la próxima década (2017–2026). Se jubilará el 43% del profesorado permanente: un 55% del profesorado vinculado de áreas clínicas, un 34% del profesorado no vinculado de áreas clínicas y un 32% del profesorado de áreas básicas. Este déficit es importante en el momento actual y en pocos años la situación será insostenible, especialmente en áreas clínicas. Este informe pone de manifiesto la necesidad inaplazable de adoptar medidas urgentes que palíen la situación actual y que prevengan un mal mayor. La formación de los futuros médicos, responsables inmediatos de salud de nuestra sociedad, depende en gran parte de la enseñanza teórica y práctica que se imparte en las facultades de Medicina, con la colaboración esencial de las instituciones sanitarias. Paradójicamente, a la vez que disminuye sustancialmente el número de profesores, aumenta exponencialmente el número de facultades de Medicina y el número de alumnos que se admiten cada año sin justificación académica ni sanitaria.
Palabras clave:
Facultades de Medicina
Profesores permanentes
Evolución
Article
These are the options to access the full texts of the publication Revista Clínica Española (English Edition)
Subscribe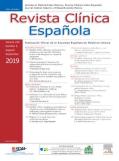 Subscribe to
Revista Clínica Española (English Edition)
Contact
Phone for subscriptions and reporting of errors
From Monday to Friday from 9 a.m. to 6 p.m. (GMT + 1) except for the months of July and August which will be from 9 a.m. to 3 p.m.
Calls from Spain
932 415 960
Calls from outside Spain
+34 932 415 960
Email