Article information
Abstract
Full Text
Bibliography
Download PDF
Statistics
Tables (3)
Table 1. Characteristics of the patients included in the study in whom the left ventricular mass index was calculated (388 patients).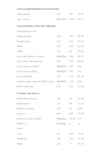 Abstract
Background
The HIV infection has been associated with an increased incidence of vascular events. Left ventricular mass (LVM) is independently associated with greater overall mortality. Various studies have shown that patients with HIV infection have higher LVM than the uninfected population. We aim to describe the distribution of LVM in an extensive series of patients with HIV infection, and the factors associated with its increase.
Patients and methods
A cross-sectional study was performed in HIV-infected patients followed in our center from 1 December 2009 to 28 February 2011. A transthoracic echocardiography (TTE) was performed in all patients who gave their consent. Demographic variables, viroimmunological status, cardiovascular risk factors, vascular risk at 10 years (VR10) and history of exposure to antiretroviral drugs were collected. LVM was considered to be the quantitative dependent variable. A univariate analysis was performed, including in the multivariate analysis those variables with p<.05.
Results
A TTE was performed in 400 patients, and the LVM was calculated in 388. Mean age was 45 years, 75.5 males. Mean LVM was 39.54g/m2.7(95% CI: 38.35–40.73). Age, height, body mass index, VR10, hypertension, dyslipidemia, different medications within the cardiovascular area and having taken nevirapine have been used in the history of the patient were associated to greater LVM. In the multivariate analysis, use of nevirapine in the history of the patient and VR10 remained in the model.
Conclusions
VR10 may be associated with greater LVM. The relationship with nevirapine may respond to an indication bias.
Keywords:
HIV
Echocardiography
Left ventricular hypertrophy
Resumen
Antecedentes
La infección VIH se ha asociado con una mayor incidencia de eventos vasculares. La masa ventricular izquierda (MVI) se asocia de forma independiente a mayor mortalidad global. Diversas series han demostrado que los pacientes con infección VIH tienen mayor MVI que la población no infectada. Nos proponemos describir la distribución de la MVI en una amplia serie de pacientes con infección VIH, y los factores asociados a su incremento.
Pacientes y métodos
Estudio transversal efectuado en los pacientes con infección VIH seguidos en nuestro centro entre el 01.12.2009 y el 28.02.2011. Se realizó ecocardiografía transtorácica (ETT) a todos aquéllos que consintieron. Se recogieron las variables demográficas, el estatus viro-inmunológico, los factores de riesgo cardiovascular, el riesgo vascular a 10 años (RV10) y el historial de exposición a fármacos antirretrovirales. Se consideró variable dependiente cuantitativa la MVI. Se realizó análisis univariante y aquellas variables con p<0,05 fueron incluidas en el análisis multivariante.
Resultados
Se efectuó ETT a 400 pacientes; en 388 se calculó la MVI. La edad media fue de 45 años, 75,5% varones. La MVI media fue de 39,54g/m2.7(IC 95%: 38,35–40,73). Se asociaron a una mayor MVI: la edad, la altura, el índice de masa corporal, el RV10, la hipertensión, la dislipemia, diversas medicaciones de la esfera cardiovascular y el haber utilizado nevirapina en la historia del paciente. En el análisis multivariante permanecieron en el modelo el uso de nevirapina en la historia del paciente y el RV10.
Conclusiones
El RV10 puede estar asociado a una mayor MVI, la relación con nevirapina puede responder a un sesgo de indicación.
Palabras clave:
VIH
Ecocardiografía
Hipertrofia ventricular izquierda
Article
These are the options to access the full texts of the publication Revista Clínica Española (English Edition)