Article information
Abstract
Full Text
Bibliography
Download PDF
Statistics
Abstract
Background and objectives
The ω-5 gliadin (ω5G) is considered the main allergen in wheat-dependent exercise-induced anaphylaxis (WDEIA). These patients experience anaphylactic reactions after consuming wheat and performing physical exercise.
The aim of our study was to describe the main characteristics of 12 patients with this diagnosis.
Material and methods
A descriptive, retrospective study was conducted by reviewing the medical records of 12 patients diagnosed with ω-5G hypersensitivity.
Results
The patients' mean age was 37 years, with 50% men and 50% women. Most of the patients had a history of similar unexamined episodes. The latency period varied from immediate to 150min. The most common symptoms were urticaria (83%), bronchospasms (58%), angio-oedema (42%), hypotension (25%) and gastrointestinal symptoms (16%). The most often involved cofactor was physical exercise. The allergy study was conducted with prick tests and total and specific IgE readings.
Conclusions
WDEIA is a relatively rare but potentially severe food allergy. Understanding this allergy is therefore important for a correct diagnosis.
Keywords:
Exercise-induced anaphylaxis
Wheat allergy
Omega-5-gliadin
Severe food allergy
Cofactors
Resumen
Antecedentes y objetivo
La ω-5 gliadina (ω5G) se considera el alérgeno principal en la anafilaxia inducida por ejercicio dependiente del trigo (WDEIA). Estos pacientes presentan reacciones anafilácticas tras la ingesta de trigo y la realización de ejercicio físico.
El objetivo de nuestro estudio es describir las principales características de 12pacientes con este diagnóstico.
Materiales y métodos
Estudio descriptivo, retrospectivo, mediante revisión de historias clínicas de 12pacientes diagnosticados de hipersensibilidad a ω5G.
Resultados
La edad media fue 37 años, el 50% varones y el 50% mujeres. La mayoría tenía antecedente de episodios similares sin estudiar. El tiempo de latencia variaba desde inmediato hasta 150 min. La clínica más frecuente fue la urticaria (83%), seguida de broncoespasmo (58%), angioedema (42%), hipotensión (25%) y síntomas gastrointestinales (16%). El cofactor más implicado fue el ejercicio físico. El estudio alergológico se realizó con prick test y determinación de IgE total y específicas.
Conclusiones
La WDEIA es una forma de alergia alimentaria relativamente rara pero potencialmente grave, por lo que es importante su conocimiento para poder llegar a un correcto diagnóstico.
Palabras clave:
Anafilaxia inducida por ejercicio
Alergia a trigo
Omega-5-gliadina
Alergia alimentaria grave
Cofactores
Article
These are the options to access the full texts of the publication Revista Clínica Española (English Edition)
Subscribe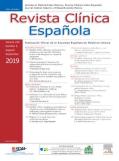 Subscribe to
Revista Clínica Española (English Edition)
Contact
Phone for subscriptions and reporting of errors
From Monday to Friday from 9 a.m. to 6 p.m. (GMT + 1) except for the months of July and August which will be from 9 a.m. to 3 p.m.
Calls from Spain
932 415 960
Calls from outside Spain
+34 932 415 960
Email