Article information
Abstract
Full Text
Bibliography
Download PDF
Statistics
Abstract
Congestive symptoms are the key to recognizing decompensated heart failure, whose treatment is based on reducing the congestion until a clinical situation has been reached that allows the patient to be discharged to continue outpatient treatment. The important aspect is not the degree of congestion at admission but rather the congestion that persists after energetic diuretic therapy. The persistence of congestive signs following an apparently correct and effective therapy has been called residual congestion and is associated with a poor prognosis. The tools for determining this condition are still rudimentary. Methods therefore need to be developed that enable a more accurate assessment.
Keywords:
Heart failure
Congestion
Residual congestion
Diuretic therapy
Resumen
Los síntomas congestivos son la clave para reconocer las descompensaciones de la insuficiencia cardiaca. Su tratamiento se basa en la reducción de la congestión hasta alcanzar una situación clínica que permita el alta del paciente para continuar el tratamiento ambulatoriamente. Lo importante, no obstante, no es el grado de congestión al ingreso, sino la que persiste después de un tratamiento diurético enérgico. A la persistencia de signos congestivos después de un tratamiento aparentemente correcto y eficaz, se le ha denominado «congestión residual» y se asocia con mal pronóstico. Las herramientas para su estimación son todavía rudimentarias, por lo que deben desarrollarse métodos que permitan una valoración más precisa.
Palabras clave:
Insuficiencia cardiaca
Congestión
Congestión residual
Terapia diurética
Article
These are the options to access the full texts of the publication Revista Clínica Española (English Edition)
Subscribe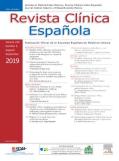 Subscribe to
Revista Clínica Española (English Edition)
Contact
Phone for subscriptions and reporting of errors
From Monday to Friday from 9 a.m. to 6 p.m. (GMT + 1) except for the months of July and August which will be from 9 a.m. to 3 p.m.
Calls from Spain
932 415 960
Calls from outside Spain
+34 932 415 960
Email