Article information
Abstract
Full Text
Bibliography
Download PDF
Statistics
Se denomina «quimera» al organismo formado por células procedentes de distintos individuos. Se trata de un fenómeno frecuente en la naturaleza que puede aparecer tras la gestación, un trasplante de órganos o una transfusión. Se ha relacionado con el desarrollo de enfermedades autoinmunes (EAI), concretamente la esclerodermia. La hipótesis que relaciona el quimerismo con las EAI surge de distintas observaciones, como la similitud de la esclerodermia con la enfermedad injerto contra huésped, la persistencia de células quiméricas en el tiempo y el hallazgo de mayor número de células quiméricas en mujeres afectas que en sanas. Este fenómeno no se asocia necesariamente a enfermedad, y podría ser de utilidad en diagnóstico prenatal e incluso estar implicado en la regeneración de órganos dañados.
The organism whose cells come from different individuals is called chimera. It is frequently observed in nature: pregnancy, organ transplantation or transfusion are considered chimeric cell sources. It has been involved in autoimmune diseases development such as scleroderma, because of similarities between it and graft versus host disease, long term persistence of fetal cells in women and the finding of greater number of chimeric cells in affected women than healthy ones. It is not strictly a disease but might be considered helpful in non-invasive prenatal diagnosis and damaged organs regeneration.
Article
These are the options to access the full texts of the publication Revista Clínica Española (English Edition)
Subscribe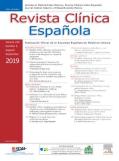 Subscribe to
Revista Clínica Española (English Edition)
Contact
Phone for subscriptions and reporting of errors
From Monday to Friday from 9 a.m. to 6 p.m. (GMT + 1) except for the months of July and August which will be from 9 a.m. to 3 p.m.
Calls from Spain
932 415 960
Calls from outside Spain
+34 932 415 960
Email