Article information
Abstract
Full Text
Bibliography
Download PDF
Statistics
Tables (6)
Table 2. Main differences in the effect of vaccines in populations younger and older than 65 years.
Table 3. Interactions between the main drugs for long-term use and the drugs employed as prophylaxis for malaria or for traveler's diarrhea.
Table 4. Summary of the main tips for elderly travelers and the basic coverage that the health insurance should cover.
Table 5. Chronic problems in the elderly that can worsen during trips.
Abstract
Improved living conditions and advances in medicine have extended life expectancy and quality of life, resulting in an increasing number of elderly travelers. Pathophysiological changes and treatments can reduce the efficacy of vaccines and facilitate drug interactions. Elderly travelers have various characteristics that should be considered when offering pre-trip counseling, which should include proper management of chronic diseases that are susceptible to worsening during the trip, as well as an appropriate study and follow-up after the trip. We performed a narrative review of the main problems of elderly travelers.
Keywords:
Travelers
Elderly
Immunosenescence
Chronic diseases
Resumen
La mejora de las condiciones de vida y los avances de la medicina han prolongado la esperanza y la calidad de vida, de tal forma que cada vez es mayor el número de viajeros de avanzada edad. Los cambios fisiopatológicos o los tratamientos pueden reducir la eficacia de las vacunas o facilitar interacciones medicamentosas. El viajero mayor presenta una serie de particularidades que se deben tener en cuenta a la hora de ofrecer un buen consejo pre-viaje. Esto debe incluir un correcto manejo de sus enfermedades crónicas susceptibles de agravarse durante el viaje, así como un adecuado estudio y seguimiento después del mismo. Se ha realizado una revisión narrativa de los principales problemas del viajero mayor.
Palabras clave:
Viajero
Anciano
Inmunosenescencia
Enfermedades crónicas
Article
These are the options to access the full texts of the publication Revista Clínica Española (English Edition)
Subscribe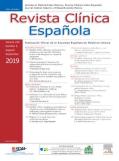 Subscribe to
Revista Clínica Española (English Edition)
Contact
Phone for subscriptions and reporting of errors
From Monday to Friday from 9 a.m. to 6 p.m. (GMT + 1) except for the months of July and August which will be from 9 a.m. to 3 p.m.
Calls from Spain
932 415 960
Calls from outside Spain
+34 932 415 960
Email