Article information
Abstract
Full Text
Bibliography
Download PDF
Statistics
Abstract
Anderson–Fabry disease is a severe progressive multisystem condition of genetic origin that affects men and women, reducing their life expectancy and quality of life. The considerable variability in its clinical expression, the difficulties in diagnosing the condition and the current availability of several alternatives for its treatment represent a considerable challenge that justifies the development of evidence-based clinical practice guidelines that can help health professionals in the decision-making process for managing these patients. To develop these guidelines, we conducted a systematic search of the main reference databases using strategies adapted to each of the 32 clinical questions considered. We prepared documents to synthesize the evidence and assess its quality for each of the questions. The methodology employed is based on the Spanish methodology manual for preparing clinical practice guidelines, incorporating the GRADE methodology in the assessment of the scientific evidence and the preparation of the recommendations, considering the quality of the evidence, the risk-benefit balance, patient values and preferences, equity and use of resources. For the definitive preparation of the recommendations, we conducted a structured consensus process based on the Delphi-RAND methodology in 2 rounds, with an expert panel proposed by various scientific societies, research centers and patient associations. Ultimately, we developed 92 specific recommendations for managing Fabry disease.
Keywords:
Clinical guidelines
Evidence-based
Fabry disease
Diagnosis
Screening
Treatment
Resumen
La enfermedad de Anderson-Fabry es una afección multisistémica progresiva y grave de origen genético que afecta tanto a hombres como a mujeres y que reduce sus expectativas y calidad de vida. La gran variabilidad en su expresión clínica, las dificultades para su diagnóstico y la disponibilidad actual de varias alternativas para su tratamiento suponen un gran reto que justifica la realización de una guía de práctica clínica basada en la evidencia que pueda ayudar a los profesionales sanitarios en la toma de decisiones en el manejo de estos pacientes. Para elaborarla se ha realizado una búsqueda sistemática en las principales bases de datos bibliográficas mediante estrategias adaptadas a cada una de las 32 preguntas clínicas consideradas. Se confeccionaron fichas para la síntesis y evaluación de la calidad de las evidencias para cada una de las preguntas. La metodología empleada se basa en el Manual metodológico español para la elaboración de guías de práctica clínica e incorpora en la evaluación de la evidencia científica y en la elaboración de las recomendaciones la metodología GRADE, considerando la calidad de la evidencia, el balance entre beneficios y riesgos, valores y preferencias de los pacientes, equidad y uso de recursos. Para la elaboración definitiva de las recomendaciones se llevó a cabo un proceso de consenso estructurado basado en la metodología Delphi-RAND en 2 rondas, con un panel de expertos propuesto por diferentes sociedades científicas, centros de investigación y asociaciones de pacientes. Finalmente, se han elaborado 92 recomendaciones específicas para el manejo de la enfermedad de Fabry.
Palabras clave:
Guía clínica
Basada en evidencia
Fabry
Diagnóstico
Cribado
Tratamiento
Article
These are the options to access the full texts of the publication Revista Clínica Española (English Edition)
Subscribe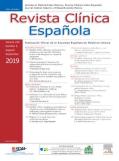 Subscribe to
Revista Clínica Española (English Edition)
Contact
Phone for subscriptions and reporting of errors
From Monday to Friday from 9 a.m. to 6 p.m. (GMT + 1) except for the months of July and August which will be from 9 a.m. to 3 p.m.
Calls from Spain
932 415 960
Calls from outside Spain
+34 932 415 960
Email