Article information
Abstract
Full Text
Bibliography
Download PDF
Statistics
Tables (4)
Table 1. Functional definition of patients with multiple diseases, those who present chronic diseases defined in two or more of the following clinical categories.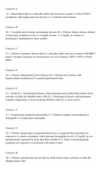 Abstract
The management of patients with comorbidity and polypathology represents a challenge for all healthcare systems. Clinical practice guidelines (CPGs) have limitations when applied to this population. The aim of this study is to propose the terminology and methodology for optimally approach comorbidity and polypathology in the CPGs. Based on a literature review, we suggest a number of proposals for the approach in different phases of CPG preparation, with special attention to the inclusion of clusters of comorbidity in the initial questions the implementation of indirect evidence, the burden of disease management for patients and their environment, when establishing recommendations, as well as the strategies of dissemination and implementation. These proposals should be developed in greater depth with the implication of more agents in order to have valid and useful tools for this population.
Keywords:
Clinical practice guidelines
Comorbidity
Polypathology
Multimorbidity
Resumen
La atención a pacientes con comorbilidad y pluripatología supone un reto para cualquier sistema sanitario. Las guías de práctica clínica (GPC) presentan limitaciones cuando se aplican a esta población. El objetivo de este trabajo es realizar una propuesta terminológica y metodológica sobre el abordaje de la comorbilidad y la pluripatología en las GPC. De acuerdo a la revisión bibliográfica efectuada, se sugieren algunas propuestas para su abordaje en las diferentes fases de elaboración de las GPC, con especial atención a la inclusión de los clusters de comorbilidad en las preguntas clínicas iniciales, la incorporación de la evidencia indirecta, el peso de la carga de gestionar la enfermedad para el paciente y su entorno en la formulación de recomendaciones, así como las estrategias de difusión e implementación. Estas propuestas deben desarrollarse en mayor profundidad con la participación de más agentes para disponer de herramientas válidas y útiles en esta población.
Palabras clave:
Guías de práctica clínica
Comorbilidad
Pluripatología
Multimorbilidad
Article
These are the options to access the full texts of the publication Revista Clínica Española (English Edition)