Received 08 August 2018. Accepted 26 November 2018
Article information
Abstract
Full Text
Bibliography
Download PDF
Statistics
Abstract
Objectives
To analyze the possible correlation between molecular changes in the JAK2, MPL and CALR genes, the morphological pattern of bone marrow and the clinical-hematologic profile of patients.
Patients and methods
We conducted a retrospective study that included 140 patients diagnosed with Philadelphia-negative myeloproliferative neoplasia (Ph-MPN) in a single center.
Results
In essential thrombocythemia (ET), the patients with the JAK2 V617F mutation presented more leucocytes and neutrophils than patients who presented the CALR mutation, who had more platelets and a greater need for cytoreductive therapy. These findings support the fact that the mutational state in ET appears to define subtypes of patients with substantially different clinical courses and prognoses. In myelofibrosis, the mutational state appears to influence the histopathological changes found in the bone marrow biopsy, which did not occur in polycythemia vera or ET.
Keywords:
Myeloproliferative neoplasia
Bone marrow biopsy
Polycythemia vera
Essential thrombocythemia
Myelofibrosis
Resumen
Objetivos
Análisis de las posibles correlaciones entre las alteraciones moleculares en los genes JAK2, MPL y CALR, el patrón morfológico de la médula ósea y el perfil clínico-hematológico de los pacientes.
Pacientes y métodos
Se trata de un estudio retrospectivo que incluye 140 pacientes con diagnóstico de neoplasias mieloproliferativas Filadelfia negativas (NMP Fi−) de un único centro.
Resultados
En la TE, los pacientes con la mutación el JAK2 V617F, presentaron un mayor número de leucocitos y neutrófilos que aquellos que presentaron la mutación en CALR. Los CALR mutados obtuvieron un mayor número de plaquetas y mayor necesidad de tratamiento citorreductor. Estos hallazgos apoyan el hecho de que el estado mutacional en la TE parece definir subtipos de pacientes con un curso clínico y pronóstico substancialmente diferentes. En la MF el estado mutacional parece influir en los cambios histopatológicos encontrados en la BMO, lo que no ocurrió en PV y TE.
Palabras clave:
Neoplasias mieloproliferativas
Biopsia de médula ósea
Policitemia vera
Trombocitemia esencial
Mielofibrosis primaria
Article
These are the options to access the full texts of the publication Revista Clínica Española (English Edition)
Subscribe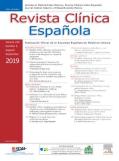 Subscribe to
Revista Clínica Española (English Edition)
Contact
Phone for subscriptions and reporting of errors
From Monday to Friday from 9 a.m. to 6 p.m. (GMT + 1) except for the months of July and August which will be from 9 a.m. to 3 p.m.
Calls from Spain
932 415 960
Calls from outside Spain
+34 932 415 960
Email