Article information
Abstract
Full Text
Bibliography
Download PDF
Statistics
Introducción
Se presenta la experiencia de un hospital universitario terciario urbano en el diseño e implementación de una consulta de atención inmediata (CAI) de medicina interna que tiene como objetivo la atención especializada ambulatoria rápida de patologías médicas, la disminución de ingresos inadecuados y la mejora de la coordinación con la Atención Primaria de salud.
Material y métodos
Recogida sistemática en todos los pacientes visitados en la CAI entre marzo de 2006 y febrero de 2007 de las siguientes variables: procedencia, orientación sindrómica y motivo de consulta, edad y sexo, número de visitas, exploraciones realizadas y destino al alta. El análisis estadístico descriptivo se realizó en marzo de 2007.
Resultados
Se han visitado 744 pacientes, realizándose un total de 1.248 vistas (ratio sucesivas/primeras de 0,67). La edad media fue de 62,56 (18,6) años y un 50,6% fueron mujeres. La ratio procedencia hospital/procedencia primaria pasó de 3,5 a 4 en el primer trimestre a 2,6-2,8 en el último trimestre. Los principales motivos de consulta fueron pacientes con síndromes constitucionales o anémicos con sospecha de enfermedad grave y pacientes con agudizaciones de procesos crónicos o infecciones. La mitad de los pacientes volvieron a la primaria y el resto se distribuyó entre diferentes recursos hospitalarios, destacando un 30% que fueron remitidos a las consultas del hospital y un 10% que precisó ingreso hospitalario o traslado a Urgencias.
Discusión
La CAI es una consulta de atención (diagnóstico y tratamiento) inmediata de medicina interna general ubicada en un hospital universitario terciario con una buena capacidad de resolución, facilitando la atención especializada ambulatoria de patologías médicas, disminuyendo los ingresos inadecuados y mejorando la coordinación con la Atención Primaria de salud.
Palabras clave:
medicina interna
atención especializada ambulatoria
hospitalización inapropiada
alternativas a la hospitalización
Introduction
The experience of an urban tertiary university hospital in the design and establishment of Specialized Ambulatory Consultation (SAC) of Internal Medicine is presented. The purpose of this consultation is fast specialized ambulatory care of medical diseases, decrease of inappropriate hospitalizations and improvement of coordination with primary health care.
Patients and method
Systematic collection of the following variables in all the patients who visited the SAC between March 2006 and February 2007: origin, syndromic diagnosis and reason for consultation, age and gender, number of visits, examinations made, and destination on discharge. The descriptive statistical analysis was made in March 2007.
Results
A total of 744 patients with 1248 visits were seen (successive/first ratio of 0.67). Mean age was 62.56 (18.6) years and 50.6% were women. The hospital origin/primary origin went from 3.5 - 4 in the first quarter to between 2.6 - 2.8 in the last quarter. The main reasons for consultation due to patient with constitutional or anemic syndromes with suspicion of serious disease and patients with decompensation of chronic diseases or infectious disease. Half of the patients returned to primary care and the rest were distributed among different hospital resources. It stands out that 30% were sent to the hospital consultations and 10% required hospitalization or transfer to the emergency room.
Conclusions
The SAC is a Fast Consultation Care (diagnosis and treatment) of general internal medicine located in a tertiary university hospital with a good capacity of resolution. It facilitates Specialized Ambulatory Care of medical diseases, decreasing inappropriate hospitalization and improving coordination with the Primary Health Care.
Key words:
internal medicine
ambulatory specialized care
inappropriate hospitalization
alternative to hospitalization
Article
These are the options to access the full texts of the publication Revista Clínica Española (English Edition)
Subscribe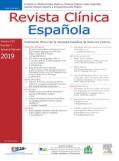 Subscribe to
Revista Clínica Española (English Edition)
Contact
Telephone
From Monday to Friday from 9 a.m. to 6 p.m. (GMT + 1) except for the months of July and August which will be from 9 a.m. to 3 p.m.
Calls from Spain
902 88 87 40
Calls from outside Spain
+34 932 418 800
E-mail